We all know that technology is going to play a pivotal role in reducing the impact of COVID-19 on people and organisations, including helping them stay productive at work when they're not able to be there in person. However, lots of businesses, as well as education and public sector organisations, are not geared to sudden mass home working.
For our customers at XMA I wanted to update you as to how you can work remotely without sacrificing collaboration, productivity or security.
Microsoft launched an interactive map that allows visitors to click on the country to see the specific number of cases of COVID-19  based on data from the World Health Organization (WHO); the US Centers for Disease Control and Prevention (CDC); and the European Centre for Disease Prevention and Control (ECDC).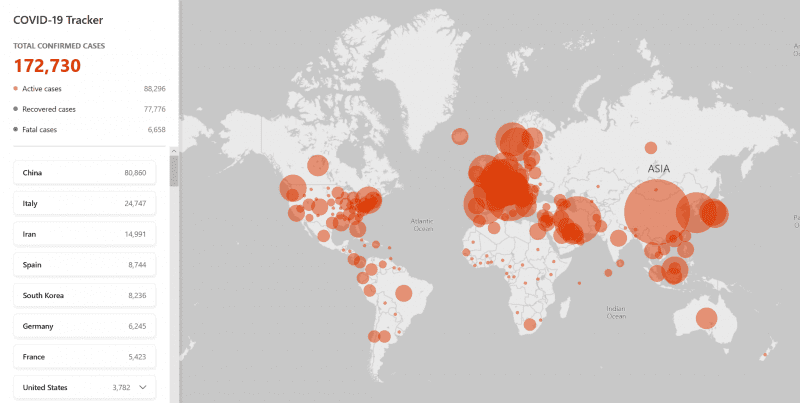 View the interactive covid map here
Whilst it is scary to see this data outlined on a heatmap, I'm pleased to report that this website is not the only way that Microsoft are supporting in the COVID-19 crisis.
JP Courtois [Microsoft's executive vice president and president of Microsoft global sales, marketing and operations] announced that Microsoft are making their paid for collaboration tool, Microsoft Teams, free for six months to help organisations deal with the demand of end users needing to work from home.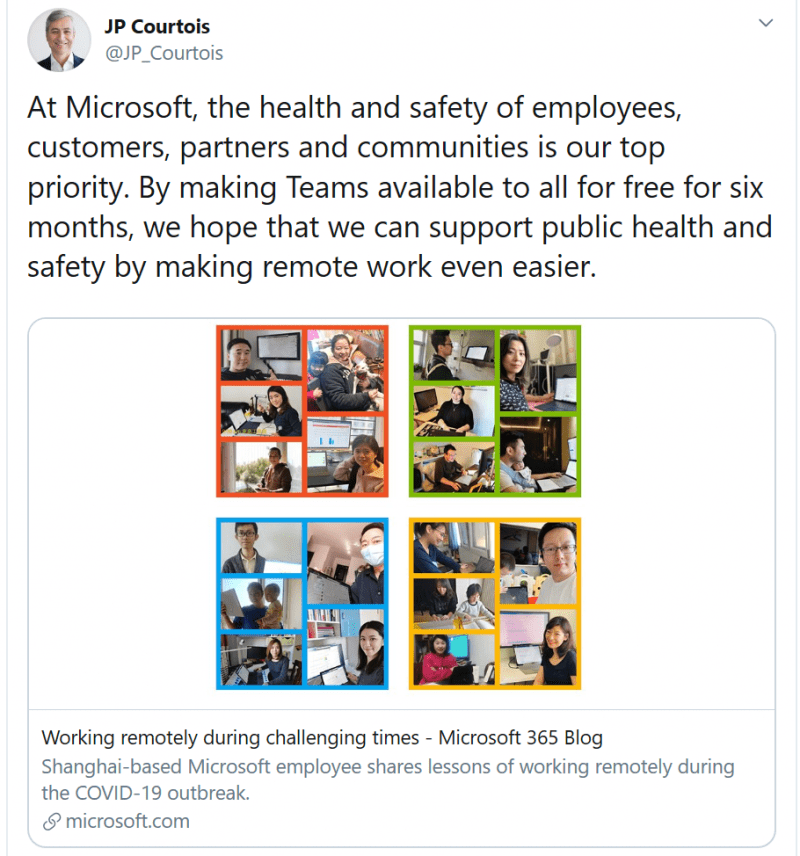 The Teams trial is part of a new Office 365 trial for enterprises (Office 365 E1) which includes full meeting, collaboration and workflow capabilities.
Read Microsoft's full statement here
Microsoft rolled out a new update on March 10 which lifted restrictions on how many users can be part of a team in the free version of Teams.  The newly released features include being able to set up Office on personal devices such as phones and tablets; 1TB of cloud storage; enterprise video-sharing service; and being able host online video conferences.
For me the key obvious benefits of this are the online meetings, increased file storage and Office Suite on a personal device.
You will be able to host online meetings with audio, HD video, and web conferencing. Even being able to present 'Broadcast meetings' which will allow up to 10,000 people join with just a web browser. This can be done on almost any device – perfect for large, companywide, conferences or events.
With OneDrive for Business each user has 1 TB of personal cloud storage that can be accessed from anywhere, on any device. This means that you can securely save the documents that you work on at home and share with others inside and outside your organization, whilst being in control of who can see and edit each file. You could then sync these documents when you get back into your place of work with your local drives.
Installing the native Office suite of products such as Word, Excel and PowerPoint will enable most workers to continue being productive especially if their own organisation can not afford to provide them with company owned hardware or the licences.
At XMA we were already regularly seeing the benefits of Teams but now with imposed travel reductions it is becoming a go to solution. Being well verse in the Microsoft Eco-structure internally as well as via our consultants, if you require any assistance on getting your trial setup, please let us know and we are of course happy to help.
In addition to this extended 6 month trial there are also specific ways that Azure AD can help enable remote access to work resources.
Please check out the Microsoft blog
At XMA we want to help our customers in this time of need. So any support you require from your Account Manager, please let them know. For the more specific items I have covered here today, please feel free to reach out and contact me directly.
In summary stay safe, travel less, collaborate more.
James
CSP Software Business Manager