We tasked our Senior Corporate Account Manager, Raj Patel, with using a Surface Go as his main device for a full working week. We wanted to know whether the Surface Go really is as powerful and durable as it says, and whether this device really is the right one for a field worker like Raj. Let's find out how he got on…
Raj Patel – Senior Corporate Account Manager at XMA
In early October, the marketing team tasked me with using a Surface Go for the entire week whilst out on my customer meetings. As a field salesman, I am always on the road visiting customers – and working for a company that sells technology… well, I need to be equipped with some of the best devices that we have to offer. After all, if I am trying to sell a product to a customer, being able to show the practicality of the device is one of the most important parts of my job.
As a field worker I need a device that has built-in LTE connectivity, is versatile enough to function throughout whatever task I'm doing, is light enough for me to carry on the go but also powerful enough to run the apps that I need.
So, when I was asked to test out the Surface Go for the week, I was never going to turn it down! My customers are always enquiring about the Surface Go, especially for their field workers. So, I figured that this was the perfect opportunity to really experience it for myself, and find out what it is about the Surface Go that makes it such a great device for remote workers such as myself.
Here's what I found:
1.      Built in connectivity and protection
One of my biggest challenge as a field worker is trying to stay productive when you don't have reliable Wi-Fi access when you're out of the office. I need to make sure I can stay connected with both my colleagues and my customers whilst I'm on the go. The always-on Outlook connectivity really helps when it comes to staying online, which means I can also remain productive throughout the day between meetings. The built-in protection with Windows 10 security also means that when I'm working in a public place or at a remote site, I can rest assured that my data is always going to be stored safely and securely.
2.      Versatile and powerful
I can start using my device by using Windows Hello, which unlocks the device using Face ID. This means I don't have to spend lots of time in front of the customer trying to unlock the device.
The long battery life also means I don't have to worry about the device losing power whilst I'm on the go. I'm a busy man! So I'm always spending time between meetings catching up on emails… doing some of my admin work… and jumping on calls using Microsoft Teams. An all-day battery life allows me to get a full working days use out of it, and then I just plug it in to charge when I get home ready for the next day. Winner, winner!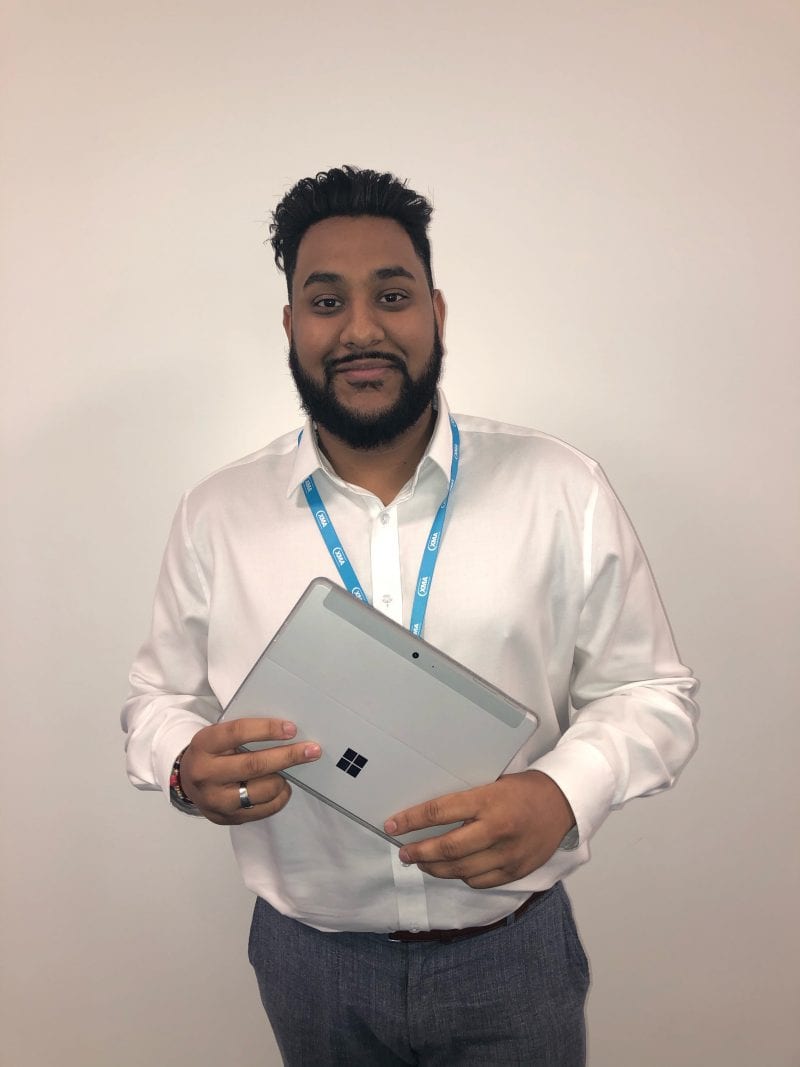 3.      On-the-go portability
One of the best things about the Surface Go is arguably its slim and lightweight design. Travelling around a lot means I don't want to carry around a heavy, bulky laptop that requires a completely separate bag! The Surface Go is so light sometimes I forget it's already in my bag (and then I have that moment of panic where I think I haven't packed it at all!).
When I use the Surface Go in my customer meetings, I don't necessarily want to be using the screen to type notes. So, in more professional and formal environments I attach the Surface Go to my Surface type cover and mouse. This turns my tablet into a functional laptop in the space of a few seconds. Customers always seem impressed when I attach the accessories to the Surface Go, as they can see in front of their very eyes how the Surface Go can be used in different ways.
The Surface Go is definitely the best device for me to use when I'm on the road and travelling. As a field worker, I knew I needed something light… portable… powerful enough to last all day… and looks sleek and stylish enough to impress in my customer meetings. I would highly recommend the Surface Go, and after this week I have asked XMA if I can keep the device as I became so attached to it. I'm now the proud new owner of a Surface Go, and I couldn't be more satisfied with it.