The most difficult crisis public sector organisations have had to cope with is the austerity measures that have been put in place by the Government and the impact that has had on funding. Many healthcare organisations have taken steps to adjust their financial situation by looking at ways to:
Increase their income
Drive efficiencies through increasing shared services and process efficiencies
Eliminating or reducing services they offer
Healthcare organisations have looked to invest in technology to ensure that performance, particularly quality of care improves while total costs decrease. This drive for efficiencies has resulted in a sharp focus on how patient data is collected, processed and stored. The collection of patient data on paper, the inefficient and expensive methods of transporting and storing that paper and the impact it has on patient healthcare quality and overall costs have been identified as a key area to drive major efficiencies.
A drive for digital ways of working has seen healthcare take tremendous steps towards a more efficient and modern way of managing patient records. However the eradication of the use of paper in the treatment of patients has not yet been realised for many organisations and they are still grappling with the challenge of planning this complex transformation. Kodak Alaris have supported dozens of healthcare customers in their digital transformation to a paper-lite environment and helped them make progress towards their ultimate objective of a a paperless NHS.
The Challenges
Clinicians rely on accurate patient data made available in a timely manner to deliver the best patient care. If patient information is exclusively on paper it can cause problems, such as:
Accessing patient records that are exclusively recorded on paper can be slow and lengthens both appointment times and waiting times.
The movement of patient records can be expensive and time consuming.
Overall, historic methods of collecting patient information on paper, manually moving this by post, vans and trolleys, and storing it in large centralised stores is no longer suitable due to its overall costs and the delays it causes in patient care.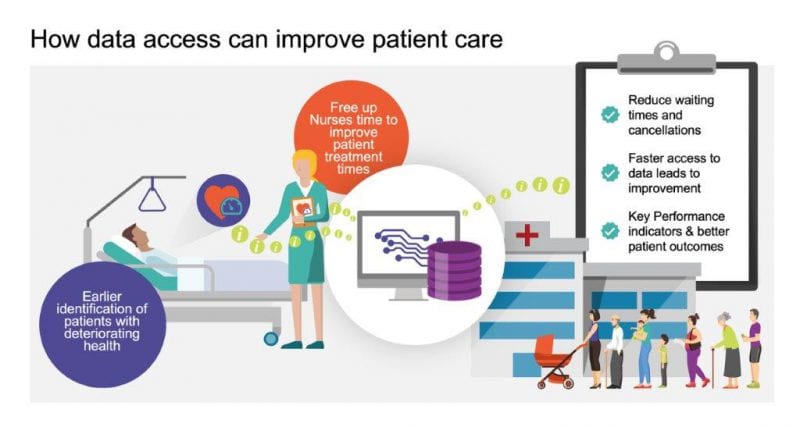 The Solution
Moving from a paper heavy approach to a digital one is a significant transformation. It requires organisations to look at how they capture information and make it digital as soon as possible, how they process that information and how they store it. With the right planning and preparation, it can have a significant positive impact on patient care and deliver long term cost savings.
Kodak Alaris along with XMA have provided their expert assistance to NHS trusts, Primary care trusts and Acute trusts through the UK and Ireland. The unique expertise in hardware, software and services have helped digitise millions of patient records reducing the time spent by clinicians finding and retrieving information necessary for patient care. Kodak Alaris solutions provide every feature you could need in the healthcare environment to improve efficiency and streamline patient care.
Utilising Kodak Alaris solutions brings a wide range of benefits to healthcare organisations:
A quicker patient record retrieval
Reduction in time taken to discover data within records
Reduction in physical storage space requirements
Reduction in logistic costs of patient record movement
Improved staff time utilisation- more time can be spent with patients rather than looking for patient information
Imagine what's possible when you take the complexity out of document-based processes. You can deliver a better patient experience at lower cost when you digitise routines that rely solely on paper.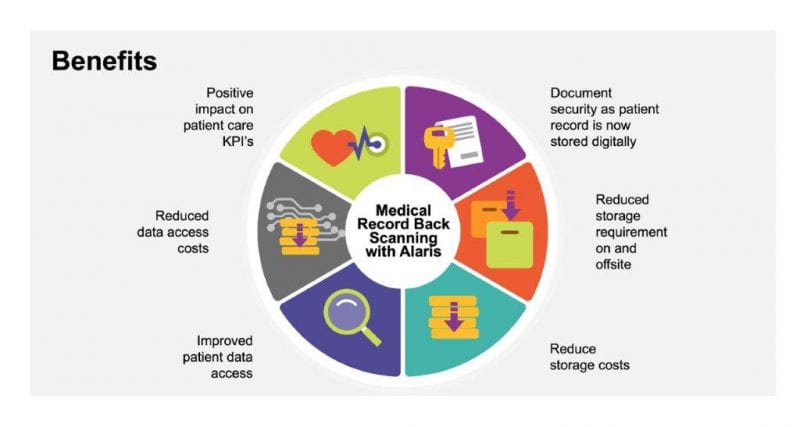 XMA are passionate about delivering an outstanding customer experience. Trusted by some of the largest Public Sector organisations in the UK, we put our customers at the heart of all that we do to enable healthcare professionals to evolve and transform the way they work.
For more information on how XMA along with Kodak Alaris can help digitalise your health organisation call: 01422 444 666 Email: info@xma.co.uk