At XMA we strive to help support sustainability efforts that have been developed to help protect the planet. That's why we're happy to support HP supplies and their many sustainability programs.
HP has a closed-loop recycling program whereby manufacturing new HP cartridges are done so by using returned cartridges and other plastics to contribute to a circular economy.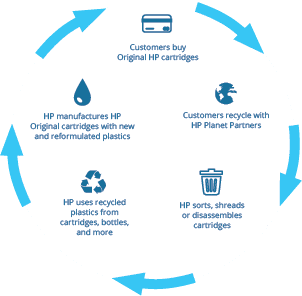 The closed-loop process:
Customer purchases Original HP cartridges to use in their printer.
Customer then recycles this cartridge using HP Planet Partner Programme.
HP then work hard to sort, shed and disassemble cartridges collected.
HP collects this usable plastic from the old cartridges and adds plastic from water bottles and hangers.
HP manufactures Original HP cartridges using new and recycled plastics previously collected.
Customer purchases Original HP cartridges…and so the process starts again.
More than 80% of Original HP ink cartridges and 100% of Original HP toner cartridges contain post-consumer or postindustrial recycled content. Since the start of this programme HP have helped divert on average more than 1 million bottles per day and produced 4.2 billion cartridges using 4.4 billion plastic bottles and 101 million hangers.
The HP Planet Partner Programme provides customers a free, convenient and responsible way of returning empty Original HP cartridges for recycling. No Original HP cartridges returned through this programme are sent to landfill. For more information visit here.