Enter our competition for your chance to win a box of Sphero robots for your school!
XMA are on a mission to prove that everyone can create with iPad, and that creativity is as limitless as a child's imagination. We are inviting schools across the UK to take part in our competition, and encourage pupils to draw their self-portrait using iPad and Pencil. Their portrait can be as realistic or as abstract as they desire, all we ask for is creativity and imagination!
What you need to know
Competition entries are open until 31st July 2019.
Don't have an iPad? Not to worry! XMA will provide your institution with an iPad and Pencil, if you do not have them, for children to draw their self portrait
How to enter and win
Complete the form below to enter your school.
If needed, an iPad and pencil will be delivered to your institution.
Submit self portrait
Submit completed drawings to XMA by 31st July 2019 for your chance to win.
Visit https://www.xma.co.uk/sectors/education/self-portrait-competition-entries to upload self portrait drawings for your school.
Entries will be judged in September on the most creative and imaginative portrait. We want every entry to stand out, and capture the pupil's personality and characteristics!
The winning pupil will be awarded with a certificate and t-shirt printed with their portrait, and the school will receive a box of Sphero robots to be used in lessons!


Limitless as a child's imagination

The power and flexibility of iPad give students the freedom to explore and express new ideas whenever and wherever inspiration strikes. Mac has the power to bring their biggest ideas to life. And built-in apps and intuitive software create an incredibly personal learning experience for each student — one that can be as unique as each student.

It works the way kids think

From the moment students pick up an iPad, they're ready to make things happen by tapping, swiping, dragging and dropping. Multi-Touch is a profoundly immersive and responsive experience that gets students of all learning styles fully engaged in what they're doing. And in what you're teaching.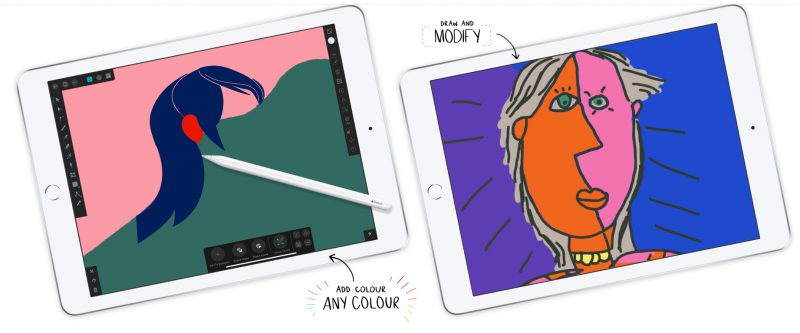 Apple pencil for ideas and masterpieces

Though it feels familiar, Apple Pencil opens up an entirely new way to use iPad. It puts an incredible selection of tools and effects in a single instrument.

Sketch, comment and collaborate

Now it's easy for students to write or draw in any Pages, Numbers or Keynote document. And teachers can instantly add their own notes to those documents, along with PDFs, photos, web pages and more.
Competition Entry Form