Making things easier for virtualised businesses: It's HPE Nimble Storage dHCI, delivering the simplicity of HCI with the flexibility of converged
HPE Nimble Storage dHCI an intelligent platform with the flexibility of converged and the simplicity of HCI. It disaggregates compute and storage and integrates hyperconverged control to give enterprises simple infrastructure management on a flexible architecture. Built with HPE ProLiant and HPE Nimble Storage, this platform provides the flexibility to scale compute and storage independently for unpredictable growth and the data resiliency and performance needed for business-critical apps.
Powered with HPE InfoSight, the industry's most advanced artificial intelligence for infrastructure, HPE Nimble Storage dHCI gives enterprises ultimate simplicity for their virtualised environments with fast app performance, always-on data resilience, and resource efficiency.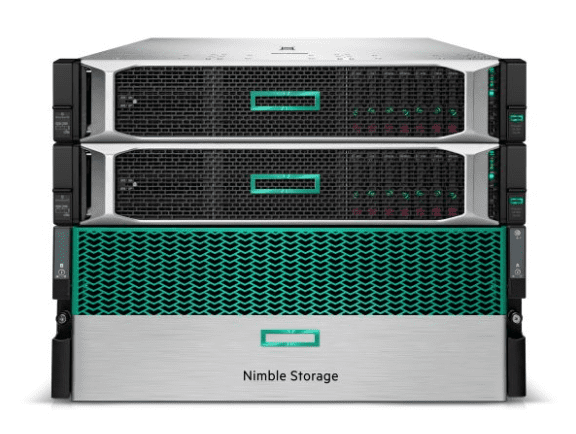 What's new
Disaggregated HCI extends hyperconvergence to workloads with unpredictable growth, scaling compute and storage independently.
Hyperconverged control collapses storage and compute silos and all data services can be managed exclusively in VMware vCenter.
Resilient design center for 99.9999% availability with no single point of failure and advanced data integrity to tolerate three simultaneous dive failures.1
Low-latency performance as low as 200 microseconds data response with automatic QoS to ensure fast performance for every app.4
Industry-leading data efficiency with advanced data reduction and a modern OS providing up to 21X data reduction.3
Watch our short animation explainer
Features
Intelligently Simple
Free yourself to focus on apps, not infrastructure. Hyperconverged control and HPE InfoSight make it simple for any VM admin to deploy, manage, scale, and support this platform. Deploy in less than 15 minutes, manage exclusively in VMware vCenter, and upgrade transparently to your apps.1
Absolutely Resilient
Keep apps running nonstop and fast with a resilient design center and predictive analytics. Sub-millisecond latency and high IOPS for performance-intensive apps and consolidation. 99.9999% availability with automated QOS, advanced data integrity, and data protection that extends to the cloud.
Efficiently Scalable
Eliminate over provisioning and add only the resources needed with the flexibility to independently grow compute and storage, non-disruptively. Store more data per raw terabyte over competitive platforms with industry-leading data efficiency backed by the HPE Store More Guarantee.2
How XMA can help
XMA are an HPE Platinum Partner in the UK.  In order to hold the HPE Platinum Partner accreditation, we must be able to demonstrate our commercial and technical ability to understand, design and implement the HPE Hybrid IT portfolio. XMA are an HPEFS Platinum Partner and the largest UK HPEFS partner for Asset Lifecycle Services / Circular Economy.
XMA have a clear strategic alignment and one with HPE, both at commercial and technical levels.
We are capable of delivering a full catalogue of professional and managed services, ranging from standard logistical services through to bespoke transformation projects that deliver our customers' business outcomes. Over 650,000 orders were shipped last year, with over third being HPE into some large organisations.
Contact us today to find out more