1 Minute Read (1MR)
The days of straining eyes, sensitive retinas and stretched out arms are over…
Hello Darkness, our new friend. 
We are using our screens more now than ever (and multiple versions at once), whether it is on our desktop or mobile, we are engaging with hours and hours worth of scanning, typing, watching and re-reading, but what impact is this having on our spherical vision artists (commonly referred to as our eyes)?
Difficulty focusing, headaches, eye discomfort, blurred vision and insomnia caused by the suppression of the secretion of melatonin (the hormone needed for sleep) are all symptoms of overexposure to the clinical and strikingly bright white backgrounds that digitally lay before us. 
Although we are aware of the 'consequences', we are a technology driven and obsessed circle – will we stop using our screens to protect our eyes? Most likely not. But what can we do to ease the strain and protect our lenses? Unless you would like to invest in a pair of yellow tinted spectacles, the next best thing for us is… dark mode. 
In recent weeks, a modern redesign launched last week on Whatsapp with glare elimination – accommodating savvy users for those late night messages and addictive group chat contributions (extra effective with the orange tinge of night mode). Some users were automatically updated to this, although some users need to manually switch. If you haven't had the chance to switch, try it out and see if it could work for you.
Why choose dark mode?
It is more relaxing for your eyes

Prolongs your devices battery life

It looks cool
How has Google Chrome modernised this trend of interface modification? And we ask, how often do you check out the available themes on Chrome?
Go to Settings > Appearance > Themes.
Here you will have the chance to change your browser settings to a vibe that suits yours. On the Chrome Web Store there is a large and heterogeneous collection of ultra modern layouts with sleek and stylish tabs and colours including: Dark and Black, Space Exploration, Minimalist, Enchanting Places, Superhero Sketches, Pink Party, and Doodle & Friends.
Take a look at the Green Spaces category preview below. Feeling refreshed? Mix it up and inspire.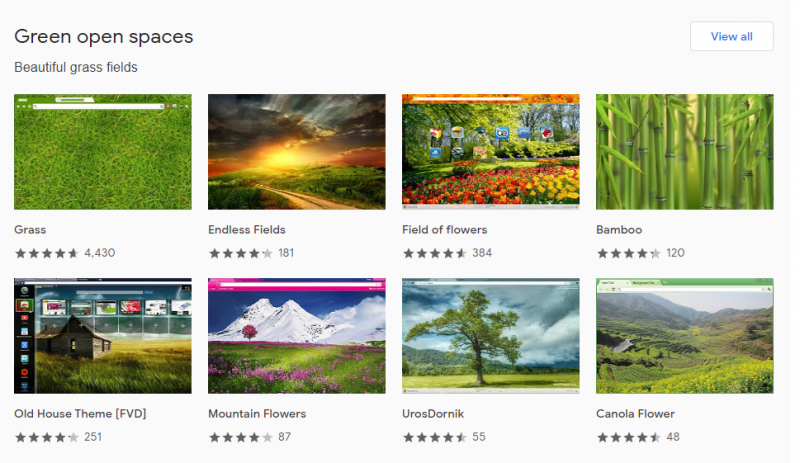 Guide your eyes through the web with a touch of design…